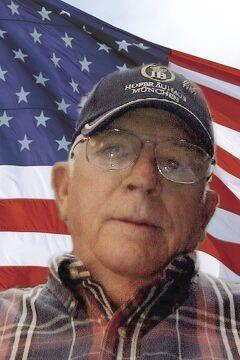 Mr. Elmer D. (Buddy) Durham, 81, of Thomson, Georgia, entered into eternal rest on November 20, 2021 at the Georgia War Veterans Nursing Home, Augusta, Georgia. Mr. Durham was born on September 23, 1940, in Big Stone Gap, Virginia, where he lived until joining the Army at age 18. He spent the next 26 years in service to his country before retiring as a Master sergeant. His survivors include his wife of 29 years, Marsha Durham; his children, John, Deanna and Lori; six grandchildren; four great grandchildren; and fur babies Peanut and Schatzi, all of whom he loved very much. The Family would like to thank the staff of Stevens Park Nursing Home, Dr. Richard Sam's and the staff of the Georgia War Veteran's Nursing Home for the compassion and care given to Buddy. The family will receive friends from 5:00 p.m. until 8:00 p.m. on Tuesday, November23, 2021 at the residence of Mrs. Marsha Durham, 168 Devonshire Drive, Thomson, Georgia 30824. Please visit www.beggsfuneralhome.net to sign the family's personal guestbook. Beggs Funeral Home, Thomson, Georgia is honored to serve the family of Mr. Elmer D. (Buddy) Durham.

Mrs. Carolyn Gay, 75, of Dearing passed away Saturday, November 13, 2021. She was an avid reader and bird lover. She enjoyed feeding and watching the birds, admiring nature and God's splendor. Carolyn loved playing online BINGO. Her greatest joy was being Granny and Nanny to her precious grandchildren and spending time doting on them. Carolyn was recently preceded in death by her loving husband of 41 years, Ronnie Gay and their son in 1990, Shane Lamar Gay. She is survived by her two daughters, Shawana Blackstone and Kimberly (Jack) Melson; five grandchildren, Daniel (Sarah) Fayson, Jamie Smith, Grace Blackstone, Baileigh Smith and Carter Smith; and dear friend, Midge Gay. A Celebration of Carolyn's life was held at 2 PM, Sunday, November 21, 2021 at Silver Run Baptist Church with Dr. Roland Galloway officiating. In lieu of flowers, memorials may be made to Silver Run Baptist Church in Carolyn's memory. I have been young but I'm older now. And there has been beauty these eyes have seen. But it was in the night, through the storms of my life - Oh, that's where God proved His love for me! The Anchor Holds. STARLING FUNERAL HOME, HARLEM, GA
Mrs. Rebekah S. Waylor, 80, passed away peacefully in her home on November 11, 2021. A life-long Georgia resident, Becky was born in Cedartown, lived in Decatur, Savannah, and Loganville before moving to Thomson. In each place, she focused on faith, family, and friends. Becky was also "Grandmommie" to the many children she nurtured in the home day care she started after the birth of her grandsons. She was preceded in death by her husband of 42 years, Alston Waylor, her parents, Hall and Lovella Shiflett, and her brother, Dwain Shiflett. Left to continue her love for others are daughters Toni (Rowe) Bowen and Jody (Jack) Boyd; grandchildren Joshua (Stephanie) Veiga, Jacob Veiga (Matthew), Allison (Nathan) Donatelli, Will (Marley) Bowen, Tiffany (Chad) Ledbetter, and Shannon (Korley) Brumbelow; great-grandchildren Brittany and CJ Ledbetter, Sarah and John Donatelli, Hudson and Harrison Brumbelow, and Dylan Claire Bowen; and other close in-laws, nephews, and dear friends. A celebration of Becky's life will be held in January 2022. If desired, please make donations to the Tunnel to Towers Foundation or a charity of your choice.
Beggs Funeral Home- Thomson, GA
Dorothy Faye Harrison, 73, Matthews, GA, entered into eternal rest on November 15, 2021. Graveside services were held November 17, 2021 at Little Brier Creek Church Cemetery, Warrenton, GA with Rev. Mike Sutphin officiating.
Elmer Durham, 81, Thomson, GA – Entered into rest on November 20, 2021 at the GA War Veterans Nursing Home. The arrangements are incomplete at this time and will be announced later.
Curtis Funeral Home – Thomson, GA
Charles Ernie Reed,Sr., 70, died November 18, 2021. Funeral services were held in the Curtis Funeral Home Chapel, November 21, 2021 with Rev. James McCollum officiating.
{Editor's note: The McDuffie Progress publishes death notices as a courtesy at no charge for area families. However, if you need to include additional details of family members and survivors please ask your funeral director to contact our office at 706-595-1601 to provide a full obituary.}